Even though we're already in February, 2021 still feels fresh and new, especially after all of the turbulence of 2020. It's a chance to start fresh, to change or improve your habits, and that can include recycling. This is also true because the way we recycle changes and advances over the years as recycling processes become more streamlined and advanced. Changes in your lifestyle can also lead to new ways to recycle. Here are a few ways you can recycle this year.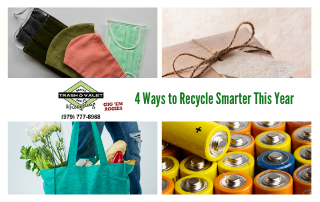 Opt for Reusable Face Masks
The COVID-19 pandemic dominated most of 2020 and has changed the way we live our lives. Most of us don't leave our homes without donning a mask, wipe down surfaces to clean off any germs, and wear latex gloves more than we used to. Some responsible citizens may want to do their part in reducing waste by recycling these materials but that could do more harm than good. These items are not recyclable and can contaminate the entire batch of recycling. Instead, invest in a cloth face mask that can be washed and reused.
Use Biodegradable Gift Wrap
With the COVID-19 vaccine already in circulation, we're all looking forward to being able to enjoy each other's company in person once again soon. You may already be planning on throwing a late birthday party or holiday celebration with your loved ones. If so, you can help them to recycle, too, by using biodegradable gift wrap and gift bags. Check any wrapping paper or gift bags to ensure that it's recyclable. This will cut down on the packing waste and your friends' and family's trash load when they clean up after the celebration.
Recycle Batteries Wisely
With the combination of mercury, silver, zinc, and/or lithium, batteries aren't really safe to dispose of in the trash or recycling bin. That doesn't mean that batteries can't be recycled or that you have to hold onto your used up batteries forever. Check your community for collection days where batteries are specifically picked up. Some hardware stores also have battery recycling bins or disposal bins where batteries are handled exclusively so that they can be disposed of safely.
Switch to Reusable Grocery Bags
This is an old tactic, but an effective one. On the whole, the average household brings home about 1,500 plastic shopping bags per year, but less than 1% are recycled. Not all recycling companies pick up plastic grocery bags, which can present a problem. Some homeowners ball them up and save them — hanging them on a door handle to be used as small trash bags. A better solution is to opt for reusable shopping bags. Grocery stores like Aldi actually encourage this, and many other stores sell cloth bags. If you don't want reusable bags, consider picking up a paper option if available. Paper shopping bags can more easily be recycled.
At Brazos Valley Trash Valet & Recycling, we make it easier for homeowners to redcycle. We accept plastics #1-7 in our single stream recycling process so you can recycle even more. Interested in getting started? Contact us today about our complimentary recycling bins with each weekly trash pickup.