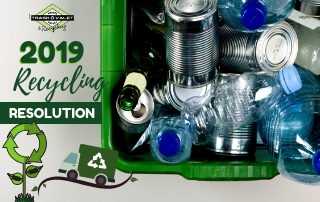 The time has come again to look to the year ahead, and everything we want to accomplish. There's something about the end of the year that lends itself to reflection and a drive for self-improvement. For some, that might be financial goals, while others might make a goal to get in shape. Others want to be more environmentally savvy, making changes to reduce their carbon footprint. One of the easiest ways to go green in 2019 is to recycle and make changes to your waste management. Here are a few of our suggestions for recycling resolutions of 2019.
Give Away, Don't Throw Away
Need to make room in your closet for new clothes? Rather than throwing away your old clothes, consider boxing them up and giving them to Goodwill. Better yet, you can ask your friends to go through the selection for anything they want. You may even be able to set up an office or church clothing swap so that everyone can find "new" used clothes without having to buy anything new. It keeps the materials from being wasted, and it cuts down on resources used to make new clothes, as well as packaging and shipping.
Cut Down on Food Waste
Make a commitment to shop smarter when it comes to food. Only purchase what you know you'll eat. If you do have any scraps left over, save leftovers and actually use them or turn unusable scraps into compost to start a vegetable or herb garden. You may be able to give what you don't use to food drives as a way of cutting down on food waste and making an attempt to be more charitable in 2019.
Support A Worthy Cause
Making changes in your own waste and recycling habits can be a great start. Giving what you can to support larger organizations trying to do the same, however, can be just as important. If you can, support your local food bank or groups that take recycled materials for a good cause. You can give food and clothing to certain charitable organizations if you don't have the financial bandwidth to donate money.
Pack a Re-Usable Mug
Do you need a few cups of coffee in order to be able to function in your day? Instead of contributing to the mess of paper or plastic cups, consider bringing a travel mug with you to the coffee shop or the office. Most coffee shops will be happy to use your mug and save their own cups for customers who need them, and those in your office may decide to follow your example, so that you can encourage others to practice smarter waste management habits as well.
Need another resolution? If you don't yet have a recycling pick-up, consider switching to Brazos Valley Trash Valet & Recycling. We offer a complimentary recycling bin with your monthly subscription of residential trash pick-up in Brazos Valley outside of Bryan-College Station city limits. Contact us today for more information.